Eye Doctor Manhattan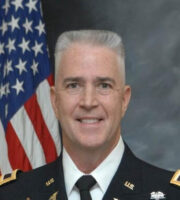 Dr. Scott D. Barnes became associated with Moadel Eye Specialists after a distinguished 30-year Army career, retiring at the rank of Colonel in 2017.
Having done more than 12,000 laser vision correction procedures, Colonel (retired) Barnes is currently the highest volume implanter of the Visian Implantable Collamer Lens (ICL) in North America, with over 3500 ICLs. He has taught well over 500 surgeons in laser vision correction and many dozens of surgeons in the ICL. He holds medical licenses in Wisconsin, Colorado, New York, and China (where he was implanting advanced EVO ICLs until COVID affected international travel).
From 2004-2017, Colonel Barnes served as Chief of Ophthalmology Services, Womack Army Medical Center, Fort Bragg, North Carolina. In 2005, he was the theater ophthalmology consultant and surgeon in Iraq and Afghanistan.
In 2006, he returned to Womack and helped to establish the use of ICLs in the Army. In 2008, Colonel Barnes was awarded the Army Surgeon General's A designator, similar to the level of professor at a civilian institution.
Dr. Barnes began his medical career in 1986 as a research assistant in the Department of Genetics, Harvard Medical School/Children's Hospital in Boston. After graduating from Northwestern Medical School in 1991 he became a general surgery intern at William Beaumont Army Medical Center. He went on to become a Special Forces ("Green Beret") Battalion and Group Surgeon as well as the Deputy Surgeon for the US Army Special Operations Command. From 2002-2004, he completed a cornea fellowship at Harvard Medical School/Mass Eye and Ear Infirmary.
Dr. Barnes has an amazing wife, two beautiful daughters, and a wonderful son-in-law. While previous hobbies included high altitude parachuting, scuba and deep sea diving, and anything extreme back when his flattop was black and heart rate was half what it is now…he now enjoys traveling with his family, teaching surgeons, and anything related to the Green Bay Packers.
Schedule Your Free Consultation Today!