Do patients see the results immediately?
Time to visual improvement depends on which procedure you have. LASIK patients generally experience a large improvement in vision within one day, followed by subtle improvements over a period of several weeks. Epi-LASIK patients, in general, will improve gradually over a one week period followed by progressive improvement over a period of several weeks.
Are both eyes performed at the same time?
Our recommendation to patients is to perform one eye at a time when the prescription level is high. Performing one eye at a time increases safety and improves chances for better vision. Studies have indicated that second eyes have a higher chance of achieving 20/20 vision when the result from the first eye is determined. For this reason, our rate of enhancement ("touch-up") is less than 5%, among the lowest in the field.
In terms of safety, performing one eye at a time minimizes risk, allowing the doctor and patient to assess the outcome of the first eye before going on to the second.
For patients where convenience is important and whose prescriptions fall within an acceptable range, we will consider performing both eyes at the same time.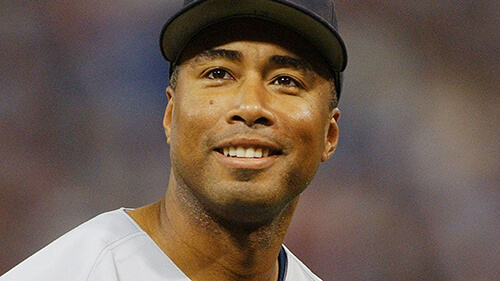 "Make sure you see the best. Make sure you see Dr. Ken Moadel."
– Bernie Williams
NY Star Centerfielder
Why do so many patients choose to have their eyes corrected here?
Dr. Ken Moadel has been specializing in LASIK surgery for over 20 years and has performed over 100,000 procedures. Patients have traveled from Europe, South America and as far as Japan just for his expert care and experience. Dr. Moadel is committed to providing quality patient care and accordingly, a high percentage of patients are found not suitable candidates.
When can I go back to work after the procedure and how often do I need to be seen?
Patients can usually return to work within a day or two. Typically they will need to be seen the day following the procedure, followed by visits at one week, one month, three months, and six months after vision correction. Most patients prefer to have their first eye performed on a Friday so that they can have the weekend to relax.
What are the results and success rates of the EpiLasik and LASIK procedures?
The great majority of patients in our practice are glasses-free after LASIK and obtain 20/20 vision. Your individual likelihood of achieving 20/20 will be discussed with you during your free consultation. In general, the lower the correction level, the higher the change of achieving 20/20 with a single treatment. Overall, less than 5% of patients require a second treatment to achieve 20/20. It is our practice's mission to help our patients be very happy with their outcome and minimizing risk. For a more detailed insight of results, please see the attached handbook.
Schedule Your Free LASIK Consultation Today!
Is the procedure painful?
The procedure is generally painless or associated with little discomfort. Only anesthetic drops are used with no injections or needles. LASIK patients will generally have irritation for several hours after the procedure and feel no discomfort the day following the procedure. EpiLASIK patients will feel irritation for 48-72 hours following the procedure until the protective contact lens is removed.
Who can not have the procedure performed?
Certain eye disorders and medical conditions including pregnancy are contraindications to EpiLasik and LASIK. Nursing mothers and patients with a history of uncontrollable autoimmune diseases should not have the procedure performed. Controlled hypertension and diabetes are usually not contraindications.
What is the risk of complications following vision correction?
Like all medical procedures, laser vision correction has inherent risks. The main concern of most patients is the loss of best vision, which is extremely rare. Our practice's conservative nature has limited risks for over two decades and is the reason other doctors have continued to refer their patients for excellent, thoughtful care.
The primary risk of all laser vision correction relates to the subjective parameters in vision including changes in sharpness, clarity, distortions around headlights at night, and dryness. The tendency for these parameters to worsen varies from person to person. The risk may be low for some and higher for others. Your individual tendency to develop side effects can be assessed during your free consultation. A more detailed assessment of risk can be viewed in the attached handbook in the results section.
How long does the procedure take?
The procedure takes between 5 to 10 minutes and patients return home within several hours. Actual exposure to the laser is only seconds.
What is the rate of patient satisfaction?
Our practice has benefited from a very high degree of patient satisfaction. Over 98% of our patients expressed satisfaction with their results and would have the procedure performed again. 98% of our patients would recommend our services to a family member or friend.
Are hyperopia (farsightedness) and presbyopia also corrected?
Hyperopia correction has been approved by the FDA. However, presbyopia – the inability to read close, small objects (such as newspaper print) that occur over the age of 40, cannot be corrected with the laser.
How long has the technology been available and how many procedures have been performed?
Excimer laser technology has been commercially available since the late 1980s in Europe, South America, and Asia. Over three million procedures have been performed since that time. The US FDA was one of the final governing bodies to approve its application in October 1995. Since that time millions of procedures have been performed in the US alone.
Is there financing available for the procedure?
Yes, we have made an alliance with AmeriFee for The Vision Fee Plan. Check out our"How Do I Get Financing?" section for more details.
Take Our LASIK Self-Test Today!