What is Pterygium?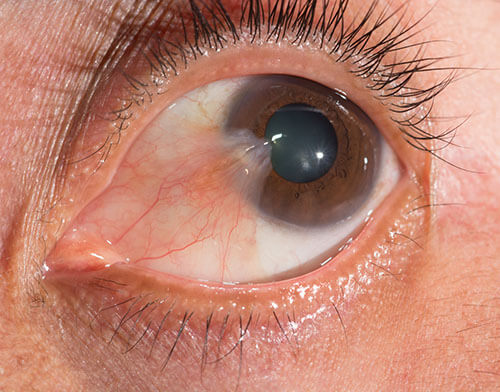 Pterygium is a common condition that can affect people who spend a lot of time outdoors, overexposed to the sun and other environments. Pterygium can affect anyone who does not use proper eye protection to protect them from outdoor elements.
Pterygium is also known as the "Surfer's Eye" and is a non-cancerous fleshy growth of tissue that may appear red and uncomfortable. The growth can progress as we age and change size and appearance. This abnormal tissue growth can lead to dry eyes, irritation and vision problems which sometimes can be confused with other age-related visual deteriorations like cataracts.
Pterygium usually starts growing over the inner corner of the eye toward the cornea (center of eye). One or both eyes may be affected and a patient can have more than one pterygium in each eye. In advanced cases, the pterygium can continue to grow over the pupil and start to interfere with your vision.
How Do You Treat Pterygium?
Most of the time, treatment involves simply wearing sunglasses and using artificial tears. Keeping the eyes moist may help prevent pterygiums from becoming inflamed and expanding. If inflammation occurs, mild steroid eye drops can be used. If an abnormal growth blocks vision or for cosmetic reasons, surgery may be necessary to remove it.
Symptoms and potential treatment/surgery options should always be discussed with your eye doctor following a thorough consultation and examination for an accurate diagnosis and treatment plan.